World Winter E-Masterclass 2020
"ONLINE Materclasses - Napolinova"
The "Napolinova" Association was founded in 1995. Since then it has organized concerts and masterclasses in the most prestigious halls of Naples with artists known all over the world.
The goal of the association, at this difficult time, is to give young artists all over the world an opportunity to learn through coaching with great artists organized by the "World Winter E-Masterclasses"
The professor and the student will be in contact through the Skype or another app, available for phone, tablet and computer, according to the professor's preference. Each participants will be receiving three individual lessons.
Piano Masterclasses

Antonio Pompa-Baldi  (www.pompabaldi.com)
December 14 to 19
The application deadline is december 4, 2020
Total fees (Application fee plus lessons fee):  € 350
Vitaly Samoshko (www.vitalysamoshko.com)
January 8 to 13
The application deadline is december 20, 2020
Total fees (Application fee plus lessons fee):  € 350
Flute Masterclasses

Andrea Oliva (www.andreaoliva.com)
November 20, 2020 to January 30, 2021
The application deadline is november 20, 2020
Total fees (Application fee plus lessons fee):  € 300
Irina Stachinskaya (www.irinastachinskaya.com)
December 15 to 23
The application deadline is december 5, 2020
Total fees (Application fee plus lessons fee):  € 350
Nicole Esposito (www.nicoleespositoflute.com)
January 17 to 24
The application deadline is January 5, 2020
Total fees (Application fee plus lessons fee):  € 350
RULES
1) The World E-Masterclasses give the opportunity to have online lessons from some of the greatest musicians in the world. They are open to young musicians of any nationality.
2) Participants can only apply as "performers". No auditors admitted.
3) The masterclasses are open to a maximum of 8 students, each of whom will be receiving three individual lessons. Admissions are on a first come first served basis (the first 8 students whose applications are received will be admitted). Applications must be received on or before the deadlines, and must include all required documents as specified below.
4) After the applications deadline of choice masterclass the Napolinova Association will contact every applicant via email to notify them of their application status. Eight musicians will be "Admitted". Any students not admitted will be excluded, and their application fee shall be reimbursed (minus any bank fees).
5) The program is free choice. It is obligatory to write in the application form the pieces that you want to study during the masterclass. Every participant will receive a certificate.
6) In the event a masterclass is canceled for organizational reasons and students cannot be admitted, the application fee will be returned, minus any bank fees.
7) To participate, send the following four items to info@associazionenapolinova.it:


a) Application form
b) Copy of valid ID (if minor, include ID of parent or legal guardian)
c) biography
d) Copy of the PayPal receipt or Wire transfer for the application fee (total fees) of your masterclass.
Applications fees must be received in full.
Bank fees must be paid by the sender or the application will be deemed not valid
-The application fee must be sent either through PayPal or through Bank Wire Transfer: if using PayPal, applicants within the European Union must add 15 Euros to the total fees; applicants from any other part of the world must add 20 Euros to their total fees (this is to cover PayPal fees).

If using Bank Wire Transfer, applicants must send the fees to Associazione Culturale Napolinova
IBAN: IT97M0335901600100000001709 - BIC BCITITMM
Agenzia 5500, Piazza Paolo Ferrari 10 - 20121 Milano (Mi) Italia





8) The teacher will contact the admitted students via email, to organize the lessons' schedule.

9) These Rules and Regulations were prepared in Italian and English. Should there be any doubts regarding their interpretation, the Italian version shall prevail.

10) By submitting an application to the masterclass, applicant thereby agrees to the competition rules.

PIANO PROFESSOR
ANTONIO POMPA-BALDI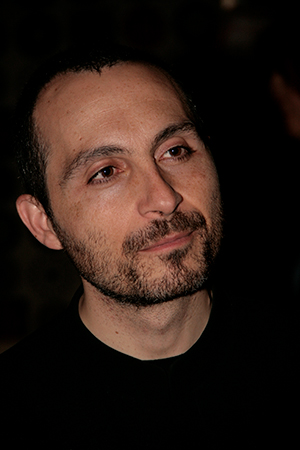 Born and raised in Foggia, Italy, Antonio Pompa-Baldi won the Cleveland International Piano Competition in 1999 and embarked on a career that continues to extend across five continents.
A top prize winner at the 1998 Marguerite Long-Jacques Thibaud Competition of Paris, France, Antonio Pompa-Baldi also won a silver medal at the 2001 Van Cliburn International Piano Competition.
Mr. Pompa-Baldi appears at the world's major concert venues including New York's Carnegie Hall, Cleveland's Severance Hall, Milan's Sala Verdi, Boston's Symphony Hall, Shanghai's Grand Theatre, and Paris' Salle Pleyel, to name a few.
He has collaborated with leading conductors including Hans Graf, James Conlon, Miguel Harth-Bedoya, Theodore Kuchar, Benjamin Zander, Louis Lane, and Keith Lockhart, performing with orchestras such as the Houston Symphony, Colorado Symphony, Berliner Symphoniker, Orchestre National de Paris-Radio France, National Orchestra of Ukraine, and Fort Worth Symphony. In chamber music settings, he has performed with leading ensembles such as Takacs String Quartet, Alison Balsom, Sharon Robinson, Cavani String Quartet, and principals of leading orchestras such as the Cleveland Orchestra, Dallas Symphony, and New York Philharmonic.
With a concerto repertoire including more than 60 works, Mr. Pompa-Baldi recently performed cycles of all the Rachmaninoff Piano Concertos, as well as the five Beethoven Piano Concertos, played both Brahms Concertos with various orchestras, and gave several performances of the Respighi A minor Piano Concerto, a piece he premiered in the US. He has played recitals in most major venues over the world. In 2019, he was a returning guest at the third edition of the Lang Lang International Piano Festival in Shenzhen, China, continued his honorary guest professorship at the Beijing China Conservatory, and was named honorary professor at the Shenyang Conservatory of Music.
In 2019, he appeared among others in Vienna (Austria), Malaga (Spain), Nancy (France), New York, San Jose, and China (Shenzhen, Hangzhou, Dalian, Guangzhou). Upcoming concerts include recitals in Seattle, Iowa, and Colorado, as well as Cosenza and Napoli (Italy). Concerto performances are scheduled in Beijing (National Center for the Performing Arts) Cape Town (South Africa), and Cleveland.
Mr. Pompa-Baldi has recorded 30 CDs to date, for various labels including Harmonia Mundi, Steinway, TwoPianists, Azica, Brilliants, and Centaur Records. Among them, the complete piano and chamber music works of Grieg, the Josef Rheinberger Piano Sonatas, the complete Hummel Piano Sonatas, and CDs dedicated to Brahms, Schumann, Liszt, Respighi, and Rachmaninoff. For the Steinway label, Pompa-Baldi recorded a disc of songs by Francis Poulenc and Edith Piaf, arranged for solo piano, to commemorate the 50th year of the passing of both French musical icons, as well as a CD titled "Napoli", which features new piano versions of famous Neapolitan songs. His next recording will be in January 2020, for Brilliant Classics, featuring the Medtner Sonatas for Piano and Violin with Fabrizio Falasca.
Antonio Pompa-Baldi is a Steinway Artist. He is often invited to judge international piano competitions such as the Cleveland, Hilton Head, E-Competition, BNDES Rio de Janeiro, and Edward Grieg, among many others. He serves as president of the jury and artistic advisor for the San Jose International Piano Competition since 2006.
Pompa-Baldi is on the Piano Faculty of the Cleveland Institute of Music. His students have been prizewinners in important competitions such as Marguerite Long, Hilton Head, Isang Yun, and Gina Bachauer. He is regularly invited to teach masterclasses in countless Universities, Music Schools, and Festivals in the US and all over the world.
In 2015, Pompa-Baldi founded the Todi International Music Masters festival, of which he is Artistic Director and Faculty Member. This summer festival takes place every August in the beautiful Italian town of Todi. It features 15 concerts in 15 days, internationally renown faculty members, and students from all over the world.

VITALY SAMOSHKO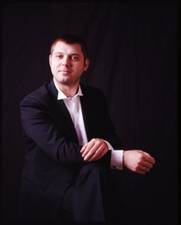 A multi-awarded performer and gifted record artist, Vitaly Samoshko is one of the greatest piano talents of our time. Participant to many major festivals worldwide, performer alongside famous orchestras and conductors, teacher to young talents, he shares his impetuous and ardent musical love with audiences and fellow musicians alike.
Vitaly Samoshko was born in Kharkiv city, Ukraine in 1973. At age five, he showed such musical promise he was granted a very early admission to the Kharkiv Special Music School. Professor Leonid Margarius started teaching him in 1985. He would continue tutoring Vitaly first at the Conservatory of Kharkiv (1991-1996), then in Imola, Italy at the Accademia Pianistica "Incontri col Maestro". As an international piano prize winner, Vitaly's talent attracted critical attention when he was awarded with 2nd prizes at the 1993 F. Busoni Competition, 1995 Senigallia International Piano Competition, 1996 Concours International de Piano de Montréal and 1998 A. Rubinstein Piano Master Competition. In 1999, a first prize in the Queen Elisabeth International Music Competition of Belgium firmly established his rising musical star and brought his solo career to a worldwide soar. He has since performed in over 25 countries, such as Zurichs Tonhalle, Théâtre du Châtelet in Paris, Metropolitan Museum and Steinway Hall in New York, the Amsterdam Concertgebouw in Amsterdam, the Beethovenhalle in Bonn and Japanese Yokohama Minato Mirai Hall, Okayama Symphony Hall, the Kyoto Concert Hall and Teatro Gran Rex in Buenos Aires. Samoshko has contributed to many major festivals, amongst which the Klavier Festival Ruhr in Germany, French Festival de Montpellier Radio France and Festival de Besançon, the Festival Música Romântica in Switzerland, Yokohama International Piano Festival in Japan, Savannah Onstage Festival in the United States, the Canadian Festival International de Lanaudière, the Festival d'Echternach and Bourglinster Festival in Luxembourg, the Chopin Piano Festival in Poland as well as Belgian Festival of Flanders, Festival d'Aulne and Festival de Wallonie in Belgium. During his many musical travels, he has enjoyed the honour of performing with world-class orchestras such as the Tokyo Philharmonic, the New Japan Philharmonic, Orchestre Symphonique de Montréal, Orchestre Philharmonique du Luxembourg, Orchestre National de Belgique, Orchestre Philharmonique de Liège, Symfonieorkest Vlaanderen, Orchester der Beethovenhalle, the St. Petersburg State Symphony and Orchestre National de Lille. Though a young performer, he has collaborated with some outstanding and acclaimed conductors, establishing partnerships with resounding names such as Charles Dutoit, Edvard Tchivzhel, Marc Soustrot, Gilbert Varga, Mendi Rodan, Georges Octors, Kazufumi Yamashita, David Shallon, Arthur Fagen, Otaka Tadaaki, Louis Langrée, Paul Daniel and David Angus. Finally, his track record includes a number of recorded broadcasts for Radio Suisse Romande in Geneva, Westdeutscher Rundfunk in Cologne, Klara and "Musique 3" in Brussels. He has also recorded with various labels and TV stations. In 2001, Vitaly made Belgium his second home. The relocation has made his career thrive. In 2003, he recorded a double CD with the new label Lineair Art Transfer. The recording features works by Schubert, Schumann, Scriabin and Prokofiev (LAT 2003-01). His second album, Piano Studies Scriabin (LAT 2005-02), was prestigiously awarded 'Best international CD 2005' by Classic Radio Klara (VRT). His third CD, the 2006 rendition of Rachmanoff's 'Les Etudes-Tableaux' (LAT 2006-03), completes an outstanding recording triptych. Regularly invited to give master classes a 2005 professor appointment at the Conservatory of Ghent confirmed academic appreciation for his outstanding track record. From 2007 onwards he is a jury member and adviser for international competitions. The latest in the serie of records is the release in May 2009 of a DVD & CD (LAT 2009-04), containing a magnum opus, the Pianoconcerto N°3, in D minor, op.30 of Sergei Rachmaninoff. In concert Vitaly Samoshko with the Symfonie.orkest.vlaanderen, conducted by Jonas Alber. (Live recording – De Blauwe Zaal the Singel – Antwerp, 30th November 2008). In the course of this extraordinary professional journey, Vitaly Samoshko has developed himself into a remarkable soloist. His performances have come to demonstrate a highly developed, subtle and enchanting musical personality, excelling both in concert programs and recordings. Thanks to his outstanding experiences alongside leading world orchestras and conductors, Vitaly Samoshko considers performing alongside them not just as a privilege but also as so many glorious moments of joy.
FLUTE PROFESSOR
ANDREA OLIVA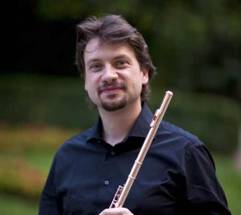 Flautist Andrea Oliva studied with Gabriele Betti, Claudio Montafia, Glauco Cambursano, Jean Claude Gerard and Sir James Galway. He was invited as Principal Flute by the Berlin Philharmonic at the age of 23, during his Karajan Academy period, under the baton of Claudio Abbado and Mariss Jansons. He was awarded the third prize at the ARD Munich (2004) and first prize at the Kobe International Flute Competition (2005). He also collaborates with the Mahler Chamber Orchestra and the Chamber Orchestra of Europe. He has performed as soloist with the Accademia di Santa Cecilia Orchestra (Nielsen Concerto and the italian premiere of Dalbavie Concerto). He is a member of the Wind Quintet of Santa Cecila and Concertgeboeuw and I Cameristi di Santa Cecilia. As soloist and teacher he has been invited by many flute festivals in China, Taiwan, Japan, Korea, Malaysia, USA, UK, Slovenia, Germany and Italy. He has recorded CDs for the labels Da Vinci Publishing, Falaut edition, Aulicus Classics, ARTS, Chant de Linos, VDM, Hyperion, Decca and Sony. Andrea Oliva Is currently Principal Flautist of the Accademia Nazionale di Santa Cecilia Orchestra in Rome, Italy, Professor at the CSI Music University of Lugano, Switzerland and he is currently Visiting Flute Professor at the RNCM of Manchester .
IRINA STACHINSKAYA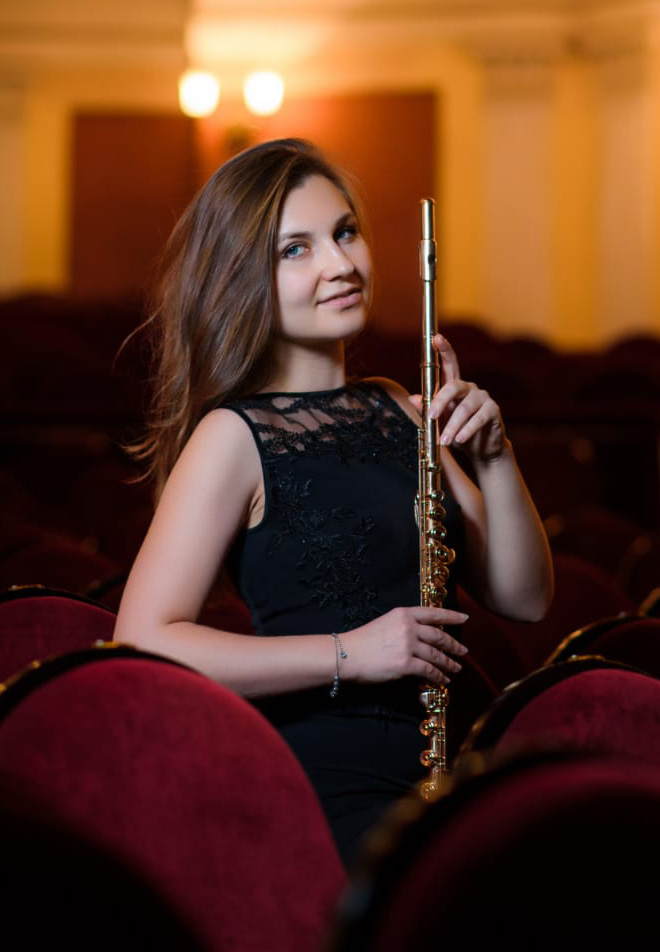 Moscow born flutist Irina Stachinskaya came from a family of distinguished musicians. She was accepted at an early age into the prestigious Gnessin Academy of Music where she studied until 2010 under the tutelage of Professor Valdimir Kudya. In addition, she is a graduate of the Ecole Normale de Musique Alfred Cortot (assistant of Jean Ferrandis) where she was awarded prestigious Le diplôme supérieur de concertiste à l'unanimité avec les félicitations du jury. While at Gnessin, Irina was the recipient of numerous awards including the "golden trophy" awarded to her ensemble KUI in the 2nd International Web Concert Hall Competition (New York 2009), first prize in the classical Heritage Competition (Moscow 2004), first prize in Musicalia (Athens 2000). In 2003, at age 14, she was awarded the position of principal flute with the Moscow State Symphony Orchestra, and in 2006, at age 17, she was awarded position of co-principal flute with the Moscow Philharmonic Orchestra. Following graduation from Gnessin, Miss Stachinskaya has maintained a robust schedule of solo and chamber performances, master classes and competitions throughout Russia, Asia, and Europe. Irina has been invited as guest soloist to the International Festival and Master Class of Sir James Galway in Wegiss. In 2010, she was awarded the Rising Star Series Prize by Sir James Galway, and in 2011, she was awarded third prize in the 2nd Maxence Laurreiu Flute International Competition held in Nice, France. Miss Stachinskaya's performances have included a concert with Davide Formisano and Cameristi della Scala in the Tchaikovsky Concert hall in Moscow. She has had numerous solo performances with multiple orchestras including New Russia Orchestra (chief conductor Yuri Bashmet), President Symphony Orchestra, Novosibirsk Philharmonic (maestro Thomas Sanderling), Saint Petersburg Symphonietta (maestro Fabio Mastrangelo), and the New Opera Orchestra named after Eugeniy Kolobov. Since 2014, she has been invited for annual touring of Japan and South Korea. In 2014, Irina became a Powell Artist and performed her solo debut at the National Flute Association in Chicago with pianist Phillip Moll and flutist Jean Ferrandis. In 2015, she was invited back to the US to perform in the Opening Gala concert which included 2000 flutists from around the world. In May 2016, in collaboration with Phillip Moll Miss Stachinskaya released her first solo album under the Russian label Melodia Records. After leaving her position at the Moscow Philharmonic orchestra in March 2017, Irina enjoys a very rich solo career popularizing flute as a solo instrument in Russia and abroad. She has performed in collaboration with renowned musicians including Nikita Boriso-Glebsky, Dmitry Kogan, Magda Amara, Harriet Krijgh, Basinia Shulman, Arthur Jussen, Amalia Hall, Alexandr Gindin, Pauline Sachse, Julia Hagen, Davide Formisano, Jean Ferrandis, Cammeristi della Scala, and others. In March 2018, Irina appeared with Mariinsky orchestra in Saint Petersburg at the « Virtuous of the flute » festival.
NICOLE ESPOSITO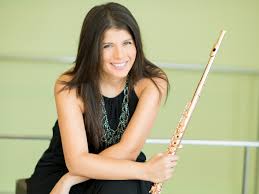 A charismatic and versatile flutist, Nicole Esposito is the flute professor and head of the woodwind area at The University of Iowa School of Music, where she is the recipient of the College of Liberal Arts and Sciences Collegiate Teaching Award, and also serves as Visiting Professor at the University of Chile. She has achieved a career as a soloist, teacher, chamber and orchestral musician on an international level having been featured across the United States, Europe, Central and South America and Asia. Esposito has performed at flute festivals and events around the world including fifteen National Flute Association Conventions, the Oklahoma Flute Fair, Florida Flute Convention, Flute Society of Kentucky Festival, Wisconsin Flute Festival, West Virginia Flute Fling, Iowa Flute Festival, Atlanta Flute Festival, the LA Flute Guild Festival, San Francisco International Flute Festival, The Texas Summer Flute Symposium, FLUTISSIMO!, NSU Flute Workshop, Festival Virtuosi, Brazil, the International Flute Festival sponsored by the Brazilian Flute Association, the Santa Maria International Winter Festival, Aruba Symphony Festival and Academy, the Panama Flute Festival, the International Flute Festival of Costa Rica, the Spanish National Flute Convention, Bogotá Flute Festival, the International Flute Congress of Argentina, Chilean Flute Encounter, the European Piccolo Festival in Slovenia, International Piccolo Festival in Italy, the Adams Flute Festival in Holland, Flute Forum in Luxembourg, the Canadian Flute Convention, and the British Flute Society Convention among others. In addition to her teaching position at The University of Iowa, Professor Esposito has served on the faculties of the Interlochen Arts Camp, the University of Wisconsin-Platteville and held guest-teaching residencies at the University of Michigan, West Virginia University and the University of Massachusetts- Amherst. She has given numerous master classes at prestigious universities and conservatories in the United States and abroad including Rice University, the Peabody Institute, the Geneva Conservatory, Royal Danish Academy, Madrid Royal Conservatory, Mannheim Hochshule, Shanghai Normal University and many others. As an orchestral musician, Esposito has performed under some of the worlds leading conductors, including James Conlon, David Zinman, Gunther Schuller, and Robert Spano. Former principal flute with the Dubuque Symphony Orchestra, she has also performed with the Quad City Symphony, Cedar Rapids Symphony, Waterloo-Cedar Falls Symphony, Youngstown (OH) Symphony, and the Johnstown and Westmoreland (PA) Symphony Orchestras. Esposito has held the Piccolo Fellowship at the Aspen Music Festival and has also been Principal Flute of the Ohio Light Opera. She has participated in a number of other music festivals including the Brevard Music Center, The Youth Orchestra of the Americas, and the National Orchestral Institute. Professor Esposito holds degrees from Carnegie Mellon University and the University of Michigan. She has been a finalist or prizewinner in several prestigious competitions including the National Flute Association's Young Artist, Piccolo Artist, and Orchestral Competitions, the WAMSO Competition sponsored by the Minnesota Orchestra, and the Houston Symphony Ima Hogg Competition. Additionally, she has published articles on Banddirector.com, The Flutist Quarterly, Flute Focus and Flute Talk Magazines and can be heard on the Albany Records, MSR Classics and Con Brio Recordings labels. Her primary flute teachers include Jeanne Baxtresser, Amy Porter, Marianne Gedigian, Jennifer Steele, and Catherine Payne, with additional study with Mark Sparks, Alberto Almarza, and Doriot Anthony Dwyer. Nicole Esposito is Miyazawa Performing Artist.