World Summer Clarinet E-Master 2020
"ONLINE Materclasses - Napolinova"
The "Napolinova" Association was founded in 1995. Since then it has organized concerts and masterclasses in the most prestigious halls of Naples with artists known all over the world.
The goal of the association, at this difficult time, is to give young artists all over the world an opportunity to learn through coaching with great artists organized by the "World Summer E-Masterclasses"
The professor and the student will be in contact through the Skype or Zoom app, available for phone, tablet and computer, according to the professor's preferences. These apps allow users to make high quality video calls and are used all around the world for teaching online. Each participants will be receiving three individual lessons.
Le Dai 10 - 16/8
RULES
1) The World Summer E-Masterclasses give the opportunity to have online lessons from some of the greatest musicians in the world. They are open to young musicians of any nationality.
2) Participants can only apply as "performers". No auditors admitted.
3) The masterclasses are open to a maximum of 8 students, each of whom will be receiving three individual lessons. Admissions are on a first come first served basis (The first 8 students whose applications are received will be admitted). Applications must be received on or before July 20, 2020, and must include all required documents as specified below.
4) After the deadline of July 20, the Napolinova Association will contact every applicant via email to notify them of their application status. Eight musicians will be "Admitted". Any students not admitted will be excluded, and their application fee shall be reimbursed (minus any bank fees).
5) The program is free choice. It is obligatory to write in the application form the pieces that you want to study during the masterclass. Every participant will receive a certificate.
6) The application deadline is 20 July, 2020. In the event the masterclass are canceled for organizational reasons and students cannot be admitted, the application fee will be returned, minus any bank fees.
7) To participate, send the following four items to info@associazionenapolinova.it:


a) Application form
b) Copy of valid ID (if minor, include ID of parent or legal guardian)
c) biography
d) Copy of the PayPal receipt or Wire transfer for the application fee (total fees) of your masterclass.
Applications fees must be received in full.
Bank fees must be paid by the sender or the application will be deemed not valid
-The application fee must be sent:
whit Pay Pal

It is possible to pay through Paypal increasing every application fee by 15 euros for the Europe and 20 euros for the rest of the world to cover the Paypal fees


or by bank wire transfer to Associazione Culturale Napolinova
IBAN: IT97M0335901600100000001709 - BIC BCITITMM
Agenzia 5500, Piazza Paolo Ferrari 10 - 20121 Milano (Mi) Italia



8) The lessons will be organized by the directors of Napolinova according to the different masterclasses and at the different time zones.

9) The teachers and students will have the schedule of lessons from the organization. At the time established by the Napolinova organization the student will contact the teacher.

10)These Rules and Regulations were prepared in Italian and English. Should there be any doubts regarding their interpretation, the Italian version shall prevail.
11) By submitting an application to the masterclass, applicant thereby agrees to the competition rules.

Clarinet Masterclass

Le Dai:  August 10 to 16 - 2020
The lessons will be organized the directors of Napolinova
Application fee (total fees): € 350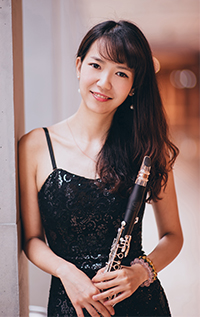 Dai Le, Chinese well-known clarinetist, currently serves as principle clarinetist of Shanghai Symphony Orchestra(SSO), faculty member of Shanghai Orchestra Academy. Dai Le's performance was complimented by Maestro Charles Dutoit as "fantastic solid sound with very beautiful interpretation, she is an absolute world class musician" for SSO's two concerts with Martha Argerich in May 2019. And The Herald Scotland highly praised her performance as the first clarinet "were the perfect partners for the soloist's perfectly projected, even-toned account of the work" while they rated four star for SSO's concert at Usher hall Edinburgh during its world tour 2019. Dai Le was selected to study at the middle school attached to Central Conservatory of Music in 1999, strictly trained by Tao Chunxiao, the famous Chinese clarinetist. Dai Le played as principal clarinetist at China Youth Symphony Orchestra during 2003-2004. And then she honored a full scholarship for studying in Yong Siew Toh Conservatory of Music, National University of Singapore since 2004 under Ma Yue, the principal clarinetist of Singapore Symphony Orchestra. In 2006, Dai Le was granted another full scholarship for the exchange program at Peabody Institute of John Hopkins University. After her service as a clarinetist (obligate the first clarinet, Eb clarinet and Bass clarinet) for China Philharmonic Orchestra from 2008 to 2011, Dai Le pursued her study in Austria, and got her Master of Arts in Clarinet Performance in 2013 with distinction (Konzertexamen mit Ausgezeichnung) at the University of Music and Performing Arts Graz under Professor Stefan Schilling, the principal clarinetist of the Bavarian Radio Symphony Orchestra. Dai Le was invited to perform as the principle clarinetist of Thailand Philharmonic Orchestra as in 2013. And she officially joined Shanghai Symphony Orchestra since 2016. Before her graduation from National University of Singapore, Dai Le won the first prize in the first Singapore National Clarinet Competition, and 2nd prize in chamber music division of the same competition as well in 2007. At the same year, her woodwind quintet won the second prize in the 9th Asian Symphony Band Competition Thailand. As an international clarinetist, Dai Le was also regularly invited to perform with Singapore Symphony Orchestra and Macau Orchestra during 2005-2008. In 2014, she was invited to join the Shanghai Symphony Orchestra European Tour as a guest principal clarinetist. Besides as an orchestra clarinetist, Dai Le also performed solo recitals in Singapore, Beijing, Austria and Thailand, and received highly recognition. She was invited to perform in the 1st, 2nd, 3rd CCOM international Clarinet Festival as a soloist, and in Shenzhen Symphony Orchestra ,2nd international clarinet week as concertmaster and soloist as well. She also performed regularly in chamber concert series at Shanghai Symphony Orchestra, broadcasted live through Shanghai Arts channel. In 2016 Le joined "Ensemble Les Amis-Shanghai" chamber music society, at the same year she recorded Prof.Chen Xiaoyong's contemporary ensemble compositions CD album-- "Imaginative Reflections", which released in Germany by Collegno company. This album won 2018 "Preis der Deutschen Schallplattenkritik (Kritikerpreis)" best contemporary music album, and the Ensemble Les Amis won the best artists. on to Carnegie Hall. Ms. Hall-Tompkins is a newly appointed faculty member of the Manhattan School of Music.