World Summer Cello E-Master 2020
"ONLINE Materclasses - Napolinova"
L'Associazione "Napolinova" organizza concerti e Masterclass con i più prestigiosi solisti e i più emeriti docenti del mondo, nelle sale più famose di Napoli fin dal 1995, anno della sua fondazione.
In questo momento difficile, con l'obiettivo di offrire ai giovani di tutto il mondo l'opportunità di confrontarsi e di crescere attraverso il rapporto con grandi artisti, organizza le "World Summer E-Masterclasses".
I docenti terranno le lezioni tramite Skype, Zoom o WeChat da tutto il mondo. Scaricare queste app per telefono, tablet e computer è estremamente facile. Queste app consentono di effettuare videochiamate di alta qualità e vengono utilizzate dai più famosi docenti del mondo.
Catalin Ilea 1 - 7/8
Jennifer Kloetzel 10 - 16/8
Kyungok Park 1 - 23/8
REGOLAMENTO
1) Le World Summer E-Masterclass danno l'opportunità di avere delle lezioni online da alcuni dei più grandi musicisti del mondo e sono aperte a giovani musicisti di qualsiasi nazionalità.
2) Le Masterclasses sono a numero chiuso e prevedono la partecipazione di un massimo di 8 allievi "effettivi" ognuna. Non sono previsti "uditori".Ogni studente riceverà tre lezioni individuali di 60 minuti
3) Per l'ammissione farà fede l'ordine di arrivo delle domande che, regolarmente compilate e corredate da tutti i documenti richiesti all'articolo 8, saranno accettate fino al 20 luglio 2020. Dopo il 20 luglio, Napolinova comunicherà l'accettazione dell'iscrizione ai primi 8 richiedenti, mentre a tutti gli altri sarà restituito il contributo organizzativo versato (meno eventuali tasse bancarie).
4) Il programma è libero. Ogni partecipante dovrà indicare nella scheda d'iscrizione i brani che intende studiare durante la masterclass scelta . A tutti varrà dato un Diploma di partecipazione.
5) Scadenza iscrizioni: 20 luglio 2020. Il contributo di partecipazione sarà restituito, al netto di eventuali commissioni bancarie, solo se la Masterclass sarà annullata dall'Associazione e a quelli non ammessi dall'Associazione.
6) Per partecipare, inviare i seguenti articoli a info@associazionenapolinova.it:


a) Modulo di domanda
b) Copia di un documento d'identità valido (se minore, anche quello del genitore)
c) una breve biografia
d) Copia della ricevuta PayPal o bonifico bancario per il contributo organizzativo relativo alla Master scelta.
- Il contributo organizzativo potrà essere versato in due modi:


- tramite bonifico bancario del contributo organizzativo:

Iscrizioni con eventuali commissioni bancarie non pagate non saranno ritenute valide

Associazione Culturale Napolinova
IBAN: IT97M0335901600100000001709 - BIC BCITITMM
Agenzia 5500, Piazza Paolo Ferrari 10 - 20121 Milano (Mi) Italia

Oppure iscriviti con paypal con un contributo-donazione, aggiungendo ulteriori 15 euro per iscrizioni dall'Europa e 20 euro per iscrizioni dal resto del Mondo al contributo organizzativo:





7) Le lezioni saranno divise durante i giorni previsti dalla Masterclass scelta. L'associazione organizzerà gli orari delle lezioni in base alle diverse Masterclass e ai diversi fusi orari.

8) Gli insegnanti e gli studenti riceveranno il programma delle lezioni dall'organizzazione. Al momento stabilito dall'organizzazione Napolinova lo studente contatterà tramite l'app indicata il docente.

9) Il presente Regolamento è stato redatto in italiano e in inglese. In caso di dubbi sulla loro interpretazione, prevarrà la versione italiana.
10) L'iscrizione ad una delle Masterclass implica la completa accettazione di tutte le regole sopra elencate.

Masterclass di Violoncello

Catalin Ilea: dal 1 al 7 Agosto - 2020 
La masterclass sarà tenuta in tedesco o francese a scelta dell'allievo
Gli orari e i giorni delle lezioni saranno organizzate dall'Associazione
Contributo organizzativo  € 350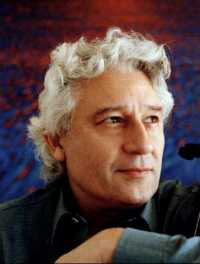 Catalin Ilea studied – among others – with Dimitrie Dinicu, Enrico Mainardi and Pierre Fournier. His career as a soloist started with four first prizes in international competitions, that led to frequent cooperations with orchestras such as Staatskapelle and Deutsches Symphonieorchester Berlin, Tonkünstler Vienna, the NDR Hannover, LA Philharmonics, the Bucharest Philharmonics and the Romanian Broadcasting Orchestra, Orchestre de la Suisse Romande etc. Catalin Ilea is a regular guest in the main concert halls of Europe, North America and Asia and appears in festivals such as "Bruckner" Linz, "Flanderen-Festival", "Warsaw Autumn", "Cologne Music Days", "Messiaen" Avignon, the UNO-Special Concerts New York, "Israel Music Summer", " Shanghai Broadcasting Festival". He has recorded over 40 records and CDs (among others for Electrecord, EMI, EMS, Olympia, OWM) displaying a vast variety of works like the cello concertos by Haydn, Schumann, Offenbach, d'Albert, Enescu, Vieru, Berger and the suites and sonatas by Bach, Brahms and Enescu. He is a founding member of the ensemble "Musica Nova", has been for a long number of years a member of the "Trio Bucharest" and the "Sharon Quartet" and maintains to this day a very active chamber music schedule. His accomplishments have been rewarded with eight critics', public and official awards. He has been a professor for cello at Berlin's prestigious University of the Arts since 1994 as well as a member in various juries of international competitions such as "Casals" (Spain) or "Brahms" (Austria); he is offering master classes on regular basis in Germany, Belgium, Italy, Poland, South Korea. Graduates of his class follow prestigious soloist careers, teach themselves at various universities or perform as members of internationally acclaimed orchestras like the Berlin, Munich and Vienna Philharmonics.
Jennifer Kloetzel: dal 10 al 16 Agosto- 2020 
Gli orari e i giorni delle lezioni saranno organizzate dall'Associazione
Contributo organizzativo  € 350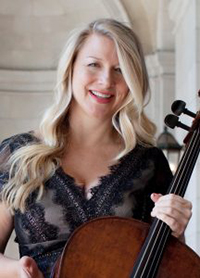 A graduate of The Juilliard School and a Fulbright Scholar, cellist Jennifer Kloetzel has concertized throughout the United States, Europe and Asia as a soloist and chamber musician. A founding member of the San Francisco-based Cypress String Quartet (1996-2016), Ms. Kloetzel has toured the globe and performed at such renowned venues as Lincoln Center, the Kennedy Center for the Performing Arts, the Chautauqua Institute and the Ravinia Festival, the Lobkowicz Palaces in both Vienna and Prague, as well as prominent colleges and conservatories worldwide. Ms. Kloetzel is noted for her elegant playing and her vibrant tone. She is a sought-after recitalist, performing recent concerts for San Francisco Performances and on WQXR in New York. Strad Magazine hailed, "Cellist Jennifer Kloetzel is impressively passionate…" A fervent champion of new music, she has received the Copland Award for her work with living American Composers and has commissioned and premiered over fifty works, including five concertos written specifically for her. In the past few seasons, premieres included a Cello Suite by Daniel Asia, a Cello Concerto, "Cloud Atlas" and unaccompanied cello work "Lift," which were both written for her by MIT composer Elena Ruehr and a Cello Sonata dedicated to her by Joseph Landers. The San Jose Mercury News proclaimed, "Cellist Jennifer Kloetzel shines in premiere" and called her a "terrific soloist…with a robust and earthy sound." Ms. Kloetzel has recorded the Ruehr Cello Concerto with the Boston Modern Orchestra Project, which was released to critical acclaim in October 2014. "Lift" is the title track of an all-Ruehr disc, released on the Avie label, and was included on Keith Powers' 13 Best Classical Music Recordings of 2016. Ms. Kloetzel is the featured cellist on a 2019 Albany Records release of music by Richard Aldag, and recently premiered Lee Actor's Cello Concerto, written for her in 2017. In the 2019-20 season, she will also give world premieres of sonatas written for her by composers Richard Aldag and Elena Ruehr and "Inferno: Double Concerto for Viola, Cello and Chamber Orchestra" by Joel Friedman. Ms. Kloetzel is winner of The Juilliard School's top award, the "Peter Mennin Prize for Outstanding Leadership and Achievement in Music," and a Presser Music Award, as well as a Fulbright Grant to England. In 2004 she was honored with the McGraw-Hill Companies' "Robert Sherman Award for Music Education and Community Outreach" in recognition of years of outreach work in schools and community centers. She has appeared at the Santa Fe Chamber Music Festival, the Sarasota and Aspen Music Festivals, the Britten-Pears School, the Prague Mozart Academy, and performed as cellist of the Cassatt Quartet during the 1995-96 season. From 2003-2009, Ms. Kloetzel taught cello and chamber music at San José State University, where the Cypress String Quartet was Ensemble-in-Residence. She has given master classes at The Juilliard School, San Francisco Conservatory and at universities throughout the U.S. Growing up near Baltimore, Ms. Kloetzel began her cello studies at age six. Her teachers included Aldo Parisot, William Pleeth, Harvey Shapiro, Stephen Kates and Paula (Virizlay) Skolnick, as well as members of the Juilliard String Quartet, the Amadeus Quartet and the Cleveland Quartet. After performing with pianist Andre Previn at the La Jolla Chamber Music Festival, Ms. Kloetzel was invited to appear as one of his select "Rising Stars" for two seasons at the Caramoor Festival in New York. Ms. Kloetzel has been featured regularly on National Public Radio's "Performance Today" and her performances have been broadcast on radio stations from coast to coast. A passionate recording artist with 36 CD releases to date, recent recordings include the entire cycle of Beethoven Quartets and Brahms Sextets on the Avie label. She performed as principal cellist of the Concert Artists of Baltimore, the Baltimore Opera and the Juilliard Orchestra under Maestro Kurt Masur. In addition, she is a frequent soloist with orchestras throughout the United States, performing works by Beethoven, Brahms, Dvořák, Elgar, Glazunov, Fauré, Ibert, Haydn, Hindemith, Lalo, Saint-Saëns, Shostakovich, Strauss, and Walton. In 2016, Ms. Kloetzel was invited to join the faculty at University of California Santa Barbara, where in 2018 she was named Assistant Professor of Cello and Head of Strings. .
Kyungok Park: dal 1 al 23 Agosto – 2020
Gli orari e i giorni delle lezioni saranno organizzate dall'Associazione
Contributo organizzativo  € 350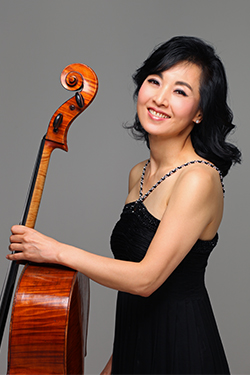 Cellist Kyungok Park is known for her versatility and high-quality performance as a soloist and a chamber musician. Winning major music competitions in South Korea like the Ehwa-Kyunghyng, Joong-Ang, Dong-A and graduating from Seoul High School of Music and Arts and Seoul National University each with the Ministry of Education Award and Prime Minister Award as a valedictorian, Park has gained renown as a distinguished cellist from a young age. Upon graduation, Park continued her studies abroad as a DAAD (Deutscher Akademischer Austauschdienst) Scholar with Prof. Andre Navarra at Staatliche Musickhoschule in Detmold, Germany and as a Rotary International Scholar with Prof. Aldo Parisot at Yale University, U.S.A. Park then pursued her doctorate degree with Prof. Bernard Greenhouse and Prof. Timothy Eddy at State University of New York at Stony Brook and acquired her DMA degree in 1988. Park has given numerous recitals in Korea, Japan, Europe, and the United States. Domestically, she frequently appears with the major Korean orchestras including the KBS Orchestra, Seoul Philharmonic Orchestra, Korean Symphony Orchestra, and Puchon Philharmonic Orchestra. Internationally, Park has appeared with the Jangchun Philharmony of China, National Orchestra of Avignon of France, and Festival Orchestra of Kirishima of Japan. She has also performed with leading artists such as Dang Thai Son, Tsuyoshi Tsutsumi, Paul Edmund-Davis, Krzystof Jablonski, Emily Beynon, Jakob Leuschner, Gerald Fauth, Shigeo Neriki, and Emil Chudnovsky. As a founder of Quartet 21 since 1991, Park has been an acclaimed chamber music player upon receipt of prestigious titles awarded to artists who have greatly contributed to the industry –President's Award by President Roh Moo-hyun, Artist of the Year by the Ministry of Culture, and Daewon Music Award by Daewon Cultural Foundation. Quartet 21 has also been appointed as the Cultural Ambassador of South Korea, performing at a World Tour Concert series in Southwest Asian countries. Passionate in educating the younger generation, Park has been a faculty artist at Kirishima International Music Festival in Japan for more than 20 years and at Euro Music Festival in Germany, and currently teaches at the Summit Music Festival in New York. She has also been a jury of International Johannes Brahms Competition since 2007, and is a professor of Department of Orchestral Instruments at Hanyang University in Seoul, South Korea.