1st World Clarinet E-Competition 2020
"Napolinova"
Open to young clarinetists of any nationality
One round through video link
The 1st World Clarinet E-Competition "Napolinova" 2020 is created with the goal of giving young clarinetists an outlet for their creativity, at a difficult time. The pandemic has forced all of us to stay at home, and to cancel our concerts, festivals and live competitions. Young artists continue to work hard, though, and we want to give them a chance to measure themselves and their progress. This Competition is organized by "Napolinova", a musical association engaged in the promotion of young artists through the creation of musical events for more than twenty years.
Our three jury members reside in three different continents, but each is known worldwide. We will avail ourselves of their great experience and expertise, and ensure that the whole process is fair and transparent. The complete list of applicants will be made public. Each jury member's votes will be made public after the conclusion of the event. Students of jury members cannot apply. Winners will receive wide exposure through broadcasts, social media, and even live concerts, once they can be held safely again. For each category, 60% of the application fees will be used for scholarship awards. The five prize-winners of each category will receive 30%, 25%, 20%, 15%, and 10% of the scholarship total, respectively.

RULES
1) 1st World Clarinet E-Competiton is open to young musicians of any nationality. Applicants must submit links to video files uploaded on YouTube as "unlisted" (Chinese applicants can upload on YouKu, if they prefer). Videos must be recorded after April 15th, 2020, using only one fixed camera. The video with all pieces must be recorded in one take without cut. Videos must be unedited. There are three age categories. Younger clarinetists may choose to apply to a higher category. Videos can be recorded with cell phones.

2) Application deadline is 15 June, 2020. The application fee will be returned, minus possible bank fees, only in case the competition is cancelled, or if the contestant is found to have a continuous teacher/student relationship with a jury member, and therefore barred from competing.

3) To participate, send the following four items to info@associazionenapolinova.it:


a) Application form b) Video Link (see above for details) c) Copy of valid ID (if minor, include
ID of parent or legal guardian) d) Wire transfer receipt for the application fee of your category
- Application fee must be sent via bank wire transfer to
AssociazIone Culturale Napolinova
IBAN: IT97M0335901600100000001709 - BIC BCITITMM
Agenzia 5500, Piazza Paolo Ferrari 10 - 20121 Milano (Mi) Italia
The above bank coordinates are complete.
The above bank codes already contain information on the specific bank and branch.


It si possible to pay through Paypal increasing every application fee by €5 to cover the Paypal fees

4) The repertoire is all free for category A. With obligatory program for category B and C.

5) Every participant will receive a certificate. Contestants must apply to ONE category only. The first FIVE ranked clarinetists will receive prize money for a total of 60% of the application fees received for their category (see below for details). Prize money will be sent via bank wire transfer— minus bank fees, if any— to an account indicated by each prize winner, immediately after the results are announced. The complete list of participants will be available on Napolinova's website and Facebook page from June 15th, 2020.

6) Each jury member will be asked to declare whether they have (or had in the past twelve months) a continuous relationship as teacher/student with any of the contestants. Those contestants will be excluded, and their application fee reimbursed (minus bank fee, if any).
7) Each jury member will receive from Napolinova links to videos, each numbered and without names, and a form on which to express a vote on a scale of 1/100. Final results will come from the sum of the three scores. In case of ties, the highest and lowest votes will be eliminated, and the middle vote will determine how to break the tie. In case the tie persists, jury members will vote again for those tied candidates only—without knowing how the other jury members had scored them— but this time their vote will include decimals.
8) Each jury member's complete set of votes received by the first FIVE for each category will be published on Napolinova's website and Facebook page at the conclusion of the competition.
9) The jury will end their work within June 30th, 2020. Results will be made public on or before July 5th, 2020. Prize winners must make their videos public. All the participants who don't receive prizes will receive a certificate of participation.

10) These Rules and Regulations were prepared in Italian and English. Should there be any doubts regarding their interpretation, the Italian version shall prevail.

Application to the competition implies complete acceptance of all the rules

Categories
Cat. A) born from 01/01/2004 and younger. Video duration max 5 minutes
Cat. B) born from 01/01/1999 and younger.

With the following obligatory repertoire:
- G. Donizetti - Studio Primo per Clarinet Solo
- G. Miluccio - Rhapsodie pour Clarinette seule

Cat. C) born from 01/01/1992 and younger.

With the following obligatory repertoire:
- B. Kovacs – Homage a J.S.Bach for Clarinet Solo
- Stravinskij - Three Pieces for Clarinet Solo
- H. Sutermeister - Capriccio for Clarinet Solo
Contestants may choose to apply to any one category, so long as they are not older than the age limit.
Jury
Le Dai - Principal clarinet of Shanghai Symphony Orchestra
Pascual Martínez-Forteza - New York Philharmonic, Acting Ass. Principal Clarinet and E-flat
Calogero Palermo - Principal clarinet Royal Concertgebouw Orchestra - Amsterdam

Application Fees
Cat. A: € 40 - Cat. B: € 70 - Cat. C: € 100
Applications must be received in full. Any bank fees must be paid by the sender,
or the application will be deemed not valid.

Prizes
First Prizes Categories A, B and C: each winner will receive 30% of the total scholarship money for his or her category.

Second Prizes Categories A, B, and C: each winner will receive 25% of the total scholarship money for his or her category.

Third Prizes Categories A, B and C: each winner will receive 20% of the total scholarship money for his or her category.

Fourth Prizes Categories A, B and C: each winner will receive 15% of the total scholarship money for his or her category.

Fifth Prizes Categories A, B and C: each winner will receive 10% of the total scholarship money for his or her category.

First Prize Winners of the Categories B and C will be invited to perform a live recital in Napoli. The performance will take place at a prestigious venue, to be chosen among the most important historical and artistic sites of Napoli (i.e. Castel Nuovo, Sala Vasari, National Archaeological Museum). The recital will be advertised to guarantee maximum exposure. If invitation is accepted, performers agree to receive no fee.

All prize winners of all categories will be awarded the chance to perform a live-streamed concert from a location of their choice. Duration will depend on their age and repertoire, but in any case total duration will not exceed 50 minutes. Prize winners may decide to record a performance instead of streaming it live. Either the live or the recorded performance will be published on the "Napolinova" Facebook page, and on the Facebook, WeChat, YouTube, or Youku platforms of the jury members.

Jury

LE DAI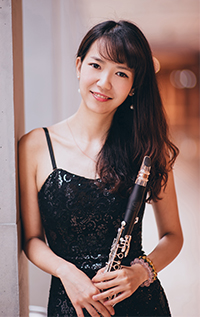 Dai Le, Chinese well-known clarinetist, currently serves as principle clarinetist of Shanghai Symphony Orchestra(SSO), faculty member of Shanghai Orchestra Academy. Dai Le's performance was complimented by Maestro Charles Dutoit as "fantastic solid sound with very beautiful interpretation, she is an absolute world class musician" for SSO's two concerts with Martha Argerich in May 2019. And The Herald Scotland highly praised her performance as the first clarinet "were the perfect partners for the soloist's perfectly projected, even-toned account of the work" while they rated four star for SSO's concert at Usher hall Edinburgh during its world tour 2019. Dai Le was selected to study at the middle school attached to Central Conservatory of Music in 1999, strictly trained by Tao Chunxiao, the famous Chinese clarinetist. Dai Le played as principal clarinetist at China Youth Symphony Orchestra during 2003-2004. And then she honored a full scholarship for studying in Yong Siew Toh Conservatory of Music, National University of Singapore since 2004 under Ma Yue, the principal clarinetist of Singapore Symphony Orchestra. In 2006, Dai Le was granted another full scholarship for the exchange program at Peabody Institute of John Hopkins University. After her service as a clarinetist (obligate the first clarinet, Eb clarinet and Bass clarinet) for China Philharmonic Orchestra from 2008 to 2011, Dai Le pursued her study in Austria, and got her Master of Arts in Clarinet Performance in 2013 with distinction (Konzertexamen mit Ausgezeichnung) at the University of Music and Performing Arts Graz under Professor Stefan Schilling, the principal clarinetist of the Bavarian Radio Symphony Orchestra. Dai Le was invited to perform as the principle clarinetist of Thailand Philharmonic Orchestra as in 2013. And she officially joined Shanghai Symphony Orchestra since 2016. Before her graduation from National University of Singapore, Dai Le won the first prize in the first Singapore National Clarinet Competition, and 2nd prize in chamber music division of the same competition as well in 2007. At the same year, her woodwind quintet won the second prize in the 9th Asian Symphony Band Competition Thailand. As an international clarinetist, Dai Le was also regularly invited to perform with Singapore Symphony Orchestra and Macau Orchestra during 2005-2008. In 2014, she was invited to join the Shanghai Symphony Orchestra European Tour as a guest principal clarinetist. Besides as an orchestra clarinetist, Dai Le also performed solo recitals in Singapore, Beijing, Austria and Thailand, and received highly recognition. She was invited to perform in the 1st, 2nd, 3rd CCOM international Clarinet Festival as a soloist, and in Shenzhen Symphony Orchestra ,2nd international clarinet week as concertmaster and soloist as well. She also performed regularly in chamber concert series at Shanghai Symphony Orchestra, broadcasted live through Shanghai Arts channel. In 2016 Le joined "Ensemble Les Amis-Shanghai" chamber music society, at the same year she recorded Prof.Chen Xiaoyong's contemporary ensemble compositions CD album-- "Imaginative Reflections", which released in Germany by Collegno company. This album won 2018 "Preis der Deutschen Schallplattenkritik (Kritikerpreis)" best contemporary music album, and the Ensemble Les Amis won the best artists.
PASCUAL MARTI'NEZ-FORTEZA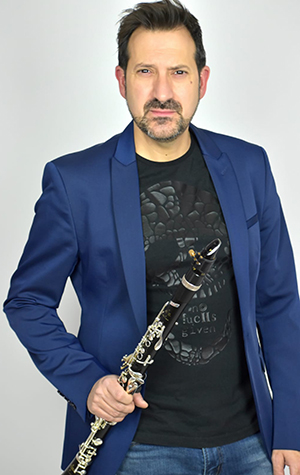 A native of Majorca, Spain, Acting Associate Principal and E-flat Clarinet Pascual Martínez­-Forteza joined the New York Philharmonic in 2001, the first and only Spanish musician in the Orchestra's history as well as a member of the Faculty of some of the most prestigious Music Schools and Universities of New York: Manhattan School of Music, New York University, Bard College and adjunct professor at Juilliard School. Prior to the Philharmonic he held tenure with the Cincinnati Symphony Orchestra, and at age 18 he was assistant principal and later acting principal of the Balearic Symphony Orchestra in Spain. He has been invited to play principal clarinet with the Berlin Philharmonic under Sir Simon Rattle both in Berlin and in Carnegie Hall, New York as well as Saint Louis Symphony, Cincinnati Symphony and E-flat clarinet with the Philadelphia Orchestra and Dallas Symphony. Mr. Martínez-Forteza performs an average of 200 performances a year as soloist, with orchestra, recitalist and chamber musician. He regularly performs with prestigious artists as well as other orchestra colleagues from the New York Philharmonic, Metropolitan Opera Orchestra, Concertgebouw and Berlin Philharmonic in music halls around the work including Carnegie Hall in New York, Musikverein in Vienna, Philarmonie in Berlin, etc. In 2004 he started a collaboration with Spanish pianist Gema Nieto and they won the Sunshine Award in 2017 for their artistic and musical excellence, being the first clarinet and piano duo to receive this prize in over 30 years of this World Art Organization. He has been a part of the several Juries, some of which including the Debussy Competition in Paris, the Dos Hermanas in Seville, Vandoren Clarinet Competition, and the YouTube Competition. He is an active educator and regularly teaches master classes around the world, as well as the Shanghai Academy in China, Buffet Crampon Summer Academy, International Clarinet Association, University of Southern California, Mannes School of Music, Universidad de Ciudad de México, Festival de Clarinete de Lima in Perú, to name a few. In 2007, he was named Honorary Citizen of Benifaió, in Spain, where he started to study clarinet with his father Pascual V. Martínez, professor of the Conservatory of Majorca and Principal Clarinet of the Balearic Symphony Orchestra. He graduated with Bachelor's in Majorca Conservatory and Masters in Barcelona Conservatory, later moving to Los Angeles to pursue Advanced Studies at the University of Southern California with Professor Yehuda Gilad, and winning the Concerto Competition. Pascual Martínez Forteza is an exclusive Buffet Crampon Artist and Vandoren. He plays Buffet Tosca Green Line, V12 reeds and mouthpieces M30D and BD5.
CALOGERO PALERMO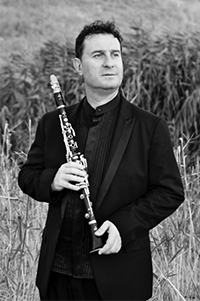 Calogero Palermo is the Principal Clarinet of the prestigious Royal Concertgebouw Orchestra in Amsterdam. Really young he had already this position in the Orchestra del Teatro V. Bellini in Catania , successively in the Orchestra del Teatro dell'Opera in Rome and in the Orchestre National de France in Paris benefitting of the experience of prestigious conductors such as Kurt Masur, Mariss Jansons, Valery Gergiev, Sir Colin Davis, Yuri Temirkanov, Daniele Gatti, Herbert Blomstedt, John Eliot Gardiner, Daniel Harding, Andris Nelsons, Iván Fischer, Neemi Järvi, Charles Dutoit and Riccardo Muti, performed in the most important concert halls in Europe, Asia, Africa and America. ! Winner of the International Jeunesses Musicales Competition in Bucharest and of many other prizes in the most important Italian Clarinet Competitions, he has an intense solo career that has seen him performing with many orchestras such as Amsterdam Sinfonietta, Thailand Philharmonic Orchestra, North Czech Philharmonic, Orchestra Sinfonica LaVerdi di Milano, Orchestra del Teatro Bellini di Catania, Czech National Symphony Orchestra, Colibrì Ensemble, Orchestra Sinfonica Siciliana, Orchestra del Teatro dell'Opera di Roma, Györ Philharmonic Orchestra, Orchestra Sinfonica Abruzzese e Orchestra Filarmonica Marchigiana. ! Since many years he is member of the Quintetto di fiati Santa Cecilia - Concertgebouw with Andrea Oliva, Francesco di Rosa, Andrea Zucco, Guglielmo Pellarin and many chamber music collaborations with musicians and groups such as Pierre-Laurent Aimard, Giovanni Sollima, Ellen Corver, Gringolts Quartet, Quartetto d'archi della Scala, Camerata RCO, Aron Quartett, Roma Opera Ensemble. His repertoire, ranging from Mozart to the contemporary, also includes authors who have composed pieces dedicated to him such as Luis Bacalov, Renato Chiesa, Claudio Cimpanelli, Antonio Fraioli and Nunzio Ortolano. ! He has recorded for B.M.G. Ricordi, Riverberi Sonori, Fonè, Accord for music-Roma, Trio Zecchini, Wicky Edition, Cristal Records, Gutman Records, Brilliant Classics, BIS Record, Cypres Records e A.I.C. ! Many of his performances have been broadcast by various radio and television stations: RAI, Vatican Radio, Romanian National Television, Radio Clásica RNE, Radio France, RadioTre, France Musique, RaiTrade and NPO Radio 4. ! He dedicates himself with particular passion to teaching activities that sees him involved in numerous Masterclasses both in Italian and International Conservatories: Mozarteum Salzburg, CRR de Paris, University of Gothenburg, Conservatoire de Lyon, Tokyo University of the Arts, Malmö Academy of Music, Conservatori Liceu de Barcellona, IMEP Institut Supérieur de Musique et de Pédagogie de Namur, College of Music Mahidol University Bangkok, Manhattan School of Music New York, Sibelius Academy Helsinki. He is regularly invited to the annual courses of the Accademia Scatola Sonora in Rome and to the summer courses of Ticino Musica e Musica Riva Festival. He is the author of the didactic text Soli d'orchestra for clarinet with piano accompaniment published by Riverberi Sonori. ! Calogero Palermo is an artist Buffet Crampon, A. Licostini and D'Addario Woodwinds.