3rd World Flute E-Competition 2022
"Napolinova"
Il 3° "Napolinova World Flute E-Competition", dopo il successo avuto con la prima edizione nata in piena pandemia per dare uno scopo e un aiuto a tutti quei giovani nel mondo che continuavano a impegnarsi e studiare, si propone di offrire ancora una volta stimoli, motivazioni e opportunità a tutti i giovani artisti del mondo.
Il concorso organizzato da Napolinova, che da oltre venti anni lavora per la valorizzazione dei giovani organizzando concerti, corsi e concorsi, coinvolgerà, anche per questa edizione, come giudici grandi Maestri in rappresentanza di diversi continenti, offrendo una vetrina mondiale ai giovani e garantendo, come sempre fatto, totale chiarezza e trasparenza.
Per incentivare e premiare questi giovani saranno attribuite borse di studio e offerti concerti. Tutti i partecipanti riceveranno Diploma di partecipazione.

REGOLAMENTO
1) Il 3° "Napolinova Flute E-Competition" è aperto a giovani di ogni nazionalità e si svolge attraverso file video a telecamera fissa, senza tagli, registrati dopo il 1 gennaio 2022 e si articola in tre categorie per età con tempi massimi d'esecuzione.


2)Scadenza iscrizione: 10 giugno 2022. L'iscrizione sarà restituita al netto delle eventuali spese di commissione bancaria solo se il Premio sarà annullato.


3) Il programma è libero. Coloro che non risulteranno tra i premiati avranno il diploma di partecipazione. I concorrenti possono iscriversi ad una sola categoria, anche superiore alla loro età.


4) Per ogni categoria saranno assegnate 3 borse di studio (50%, 30%, 20%). Sono ammessi gli ex –aequo . In caso di ex-aequo la borsa di studio sarà divisa.


5) Alla scadenza dei termini di partecipazione sul sito e su facebook sarà pubblicato l'elenco dei partecipanti.


6) I giurati dovranno dichiarare all'Associazione se hanno avuto con uno o più concorrenti rapporti didattici continuativi (non master saltuari) negli ultimi 12 mesi e si asterranno dal votare per essi. Gli altri membri della giuria non conosceranno i nomi di questi concorrenti fino alla pubblicazione dei risultati finali. Al termine del concorso queste dichiarazioni saranno pubblicate sul sito e su Facebook.


7) Le votazioni saranno in centesimi. I giudici voteranno entro il 30.06.2022. Il risultato sarà dato dalla media aritmetica.


8) Entro il 10.07.2022 sul sito e su Facebook saranno pubblicati i risultati con nomi e link di tutti i partecipanti.
I premiati dovranno obbligatoriamente rendere visibile il loro video.
9) Le borse di studio, al netto delle eventuali spese bancarie, saranno versate con bonifico immediatamente dopo la pubblicazione dei risultati.


10) Per partecipare inviare via mail a competition@associazionenapolinova.it:


- link video (vedi art. 1) caricati su Youtube o su Youku (per i concorrenti dalla Cina impossibilitati ad utilizzare Youtube) in modalità "non in elenco";
- domanda d'iscrizione allegata al presente bando;
- copia del documento d'identità;
- fotografia di ottima qualità;
- breve curriculum;
- bonifico del contributo organizzativo relativo alla propria categoria a:

Associazione Culturale Napolinova
IBAN: IT97M0335901600100000001709 - BIC BCITITMM
Agenzia 5500, Piazza Paolo Ferrari 10 - 20121 Milano (Mi) Italia


Oppure iscriviti con paypal con un contributo-donazione, aggiungendo ulteriori 5€ al contributo di partecipazione previsto per la tua categoria:




11) In caso di contenzioso, farà fede il regolamento originale redatto in lingua italiana. L'iscrizione al Premio comporta l'accettazione del presente regolamento.


CATEGORIE
Cat. A) nati dall'anno 2006 in poi - video di massimo 5 minuti
Cat. B) nati dall'anno 2001 in poi - video di massimo 10 minuti
Cat. C) nati dall'anno 1992 in poi - video di massimo 15 minuti

È possibile iscriversi ad una sola categoria ma anche superiore alla propria età
GIURIA

Nicole Esposito (USA – University of Iowa School of Music)
Soyoung Lee (Korea - Seoul Central Conservatory)
Andrea Manco (Italy - 1st Flute Teatro alla Scala – Scala Accademy)
Irina Stachinskaya ( Russia – Moscow University of Culture)
Seijun Takahashi (Japan – Kunithachi College of Music)



PREMI
Primo Premio
I vincitori del Primo Premio di ogni categoria riceveranno:


Borsa di studio
Diploma
Pubblicazione del video sul canale Youtube e pagina Facebook dell'Associazione e dei membri della giuria
Invito a tenere un concerto online per la terza edizione del "Napolinova World E-Festival"
Invito, al vincitore della categoria C, a tenere nel 2022 un concerto a Napoli a titolo gratuito in prestigiosi luoghi storico-artistici della Città (Castel Nuovo, Sala Vasari, Museo Archeologico Nazionale).
Secondo Premio
I vincitori del Secondo Premio di ogni categoria riceveranno:


Borsa di studio
Diploma
Pubblicazione del video sul canale Youtube e pagina Facebook dell'Associazione e dei membri della giuria
Invito a tenere un concerto online per la terza edizione del "Napolinova World E-Festival"
Terzo Premio
I vincitori del Terzo Premio di ogni categoria riceveranno:


Borsa di studio
Diploma
Pubblicazione del video sul canale Youtube e pagina Facebook dell'Associazione e dei membri della giuria
Invito a tenere un concerto online per la terza edizione del "Napolinova World E-Festival"
Quarto Premio
I vincitori del Quarto Premio di ogni categoria riceveranno:


Diploma
Pubblicazione del video sul canale Youtube e pagina Facebook dell'Associazione e dei membri della giuria
Invito a tenere un concerto online per la terza edizione del "Napolinova World E-Festival"
Quinto Premio
I vincitori del Primo Premio di ogni categoria riceveranno:


Diploma
Pubblicazione del video sul canale Youtube e pagina Facebook dell'Associazione e dei membri della giuria
Invito a tenere un concerto online per la terza edizione del "Napolinova World E-Festival"
Sono ammessi gli ex –aequo. In caso di ex-aequo la borsa di studio sarà divisa.
Le tre (3) borse di studio di ciascuna categoria saranno pari al 50%, 30%, 20% del totale delle borse di studio di quella categoria.
I vincitori del Concerto online (di max 30min.) potranno decidere di farlo in streaming live o di trasmettere un loro concerto preregistrato (in qualsiasi ambito). Il concerto live o registrato sarà pubblicato sulla pagina Facebook "Napolinova" e sulle piattaforme Facebook, WeChat, YouTube o Youku dei membri della giuria.
CONTRIBUTO ORGANIZZATIVO
Cat. A: € 40 - Cat. B: € 70 - Cat. C: € 100
Iscrizioni con contributi con commissioni non pagate detratte dalla banca saranno escluse
GIURIA
(in ordine alfabetico)

NICOLE ESPOSITO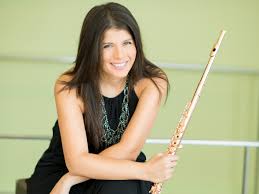 A charismatic and versatile flutist, Nicole Esposito is the flute professor and head of the woodwind area at The University of Iowa School of Music, where she is the recipient of the College of Liberal Arts and Sciences Collegiate Teaching Award, and also serves as Visiting Professor at the University of Chile. She has achieved a career as a soloist, teacher, chamber and orchestral musician on an international level having been featured across the United States, Europe, Central and South America and Asia. Esposito has performed at flute festivals and events around the world including fifteen National Flute Association Conventions, the Oklahoma Flute Fair, Florida Flute Convention, Flute Society of Kentucky Festival, Wisconsin Flute Festival, West Virginia Flute Fling, Iowa Flute Festival, Atlanta Flute Festival, the LA Flute Guild Festival, San Francisco International Flute Festival, The Texas Summer Flute Symposium, FLUTISSIMO!, NSU Flute Workshop, Festival Virtuosi, Brazil, the International Flute Festival sponsored by the Brazilian Flute Association, the Santa Maria International Winter Festival, Aruba Symphony Festival and Academy, the Panama Flute Festival, the International Flute Festival of Costa Rica, the Spanish National Flute Convention, Bogotá Flute Festival, the International Flute Congress of Argentina, Chilean Flute Encounter, the European Piccolo Festival in Slovenia, International Piccolo Festival in Italy, the Adams Flute Festival in Holland, Flute Forum in Luxembourg, the Canadian Flute Convention, and the British Flute Society Convention among others. In addition to her teaching position at The University of Iowa, Professor Esposito has served on the faculties of the Interlochen Arts Camp, the University of Wisconsin-Platteville and held guest-teaching residencies at the University of Michigan, West Virginia University and the University of Massachusetts- Amherst. She has given numerous master classes at prestigious universities and conservatories in the United States and abroad including Rice University, the Peabody Institute, the Geneva Conservatory, Royal Danish Academy, Madrid Royal Conservatory, Mannheim Hochshule, Shanghai Normal University and many others. As an orchestral musician, Esposito has performed under some of the worlds leading conductors, including James Conlon, David Zinman, Gunther Schuller, and Robert Spano. Former principal flute with the Dubuque Symphony Orchestra, she has also performed with the Quad City Symphony, Cedar Rapids Symphony, Waterloo-Cedar Falls Symphony, Youngstown (OH) Symphony, and the Johnstown and Westmoreland (PA) Symphony Orchestras. Esposito has held the Piccolo Fellowship at the Aspen Music Festival and has also been Principal Flute of the Ohio Light Opera. She has participated in a number of other music festivals including the Brevard Music Center, The Youth Orchestra of the Americas, and the National Orchestral Institute. Professor Esposito holds degrees from Carnegie Mellon University and the University of Michigan. She has been a finalist or prizewinner in several prestigious competitions including the National Flute Association's Young Artist, Piccolo Artist, and Orchestral Competitions, the WAMSO Competition sponsored by the Minnesota Orchestra, and the Houston Symphony Ima Hogg Competition. Additionally, she has published articles on Banddirector.com, The Flutist Quarterly, Flute Focus and Flute Talk Magazines and can be heard on the Albany Records, MSR Classics and Con Brio Recordings labels. Her primary flute teachers include Jeanne Baxtresser, Amy Porter, Marianne Gedigian, Jennifer Steele, and Catherine Payne, with additional study with Mark Sparks, Alberto Almarza, and Doriot Anthony Dwyer. Nicole Esposito is Miyazawa Performing Artist.
SOYOUNG LEE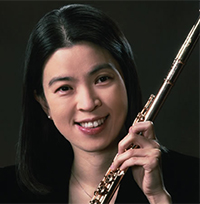 Korean born flutist Soyoung Lee has finished her studies in America (Oberlin Conservatory and Yale University). She had been a principal flute of the Bucheon Philharmonic Orchestra for 18 years(1993-2011). She has played many recitals and concertos with major orchestra including Ensemble of Tokyo at Kiyoii Hall in 2012 . She has been a jury member of the Israel Haifa international flute competition, the 2nd Beijing-Nicolet international flute competition and the 9th Kobe International Flute Competition. In 2019, She was a jury member of Carl Nielsen International Competition in Denmark. So far, she has released 3 Solo and concerti CD from Skarbo, France and Bach Brandenbourg concerti from EMI Korea. She is a professor of Seoul Central Conservatory and also teaches Seoul arts highschool and Yewon school of arts.
ANDREA MANCO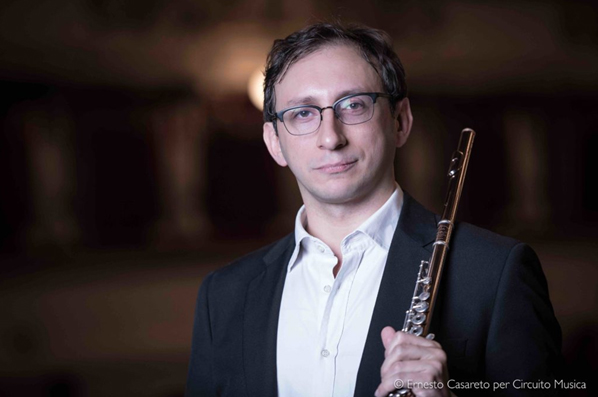 First Flute of the Orchestra of the Teatro alla Scala and of the Scala Philharmonic since 2015. He studied atthe "Tito Schipa" conservatory in Lecce under the guidance of Luigi Bisanti, graduating at 16 with fullmarks and honors. He studied at the Academy of Imola with Persichilli, Mercelli and Cambursano, inFlorence with Marasco and at the "Conservatoire Superieure de Musique" in Geneva with Jacques Zoon. Considered one of the most brilliant flutists of his generation, he obtained prizes in the major internationalflute competitions: "Francesco Cilea" of Palmi, "Leonardo De Lorenzo" of Viggiano, Yamaha MusicFoundation of Milan, "Emanuele Krakamp" of Naples, "Pellegrini "Of Cagliari, the XXXVIII InternationalCompetition of Budapest and the First" Maxence Larrieu "International Flute Competition in Nice. In 2002he was chosen by Riccardo Muti as the first flute of the "Luigi Cherubini" Youth Orchestra, which hecreated. In 2003, at the age of 20, he obtained the position of first flute in the Orchestra of the Teatro Regioof Turin conducted by Gianandrea Noseda. He was invited, as first guest flute, by the orchestras: MaggioMusicale Fiorentino, Opera di Roma, Stuttgart Philharmoniker, Hungarian National Philharmonic, NoordNederlands Orkest, Symphonica Toscanini conducted by Lorin Maazel, touring Europe, USA, Japan, Chinaand Israel. He also has, as a soloist and chamber musician, concerts in numerous Italian and internationalfestivals; in 2018 he was invited to the Lucerne Festival Orchestra conducted by Riccardo Chailly. Herecorded for Warner Music, Brilliant Classics, Decca, Sony and for the CD's of the music magazine Syrinx, Amadeus and Falaut. He teaches flute at the "Incontri col Maestro" International Academy in Imola and at the Teatro alla Scala Academy. .
IRINA STACHINSKAYA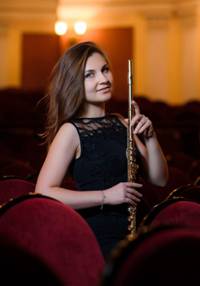 Moscow born flutist Irina Stachinskaya came from a family of distinguished musicians. She was accepted at an early age into the prestigious Gnessin Academy of Music where she studied until 2010 under the tutelage of Professor Valdimir Kudya. In addition, she is a graduate of the Ecole Normale de Musique Alfred Cortot (assistant of Jean Ferrandis) where she was awarded prestigious Le diplôme supérieur de concertiste à l'unanimité avec les félicitations du jury. While at Gnessin, Irina was the recipient of numerous awards including the "golden trophy" awarded to her ensemble KUI in the 2nd International Web Concert Hall Competition (New York 2009), first prize in the classical Heritage Competition (Moscow 2004), first prize in Musicalia (Athens 2000). In 2003, at age 14, she was awarded the position of principal flute with the Moscow State Symphony Orchestra, and in 2006, at age 17, she was awarded position of co-principal flute with the Moscow Philharmonic Orchestra. Following graduation from Gnessin, Miss Stachinskaya has maintained a robust schedule of solo and chamber performances, master classes and competitions throughout Russia, Asia, and Europe. Irina has been invited as guest soloist to the International Festival and Master Class of Sir James Galway in Wegiss. In 2010, she was awarded the Rising Star Series Prize by Sir James Galway, and in 2011, she was awarded third prize in the 2nd Maxence Laurreiu Flute International Competition held in Nice, France. Miss Stachinskaya's performances have included a concert with Davide Formisano and Cameristi della Scala in the Tchaikovsky Concert hall in Moscow. She has had numerous solo performances with multiple orchestras including New Russia Orchestra (chief conductor Yuri Bashmet), President Symphony Orchestra, Novosibirsk Philharmonic (maestro Thomas Sanderling), Saint Petersburg Symphonietta (maestro Fabio Mastrangelo), and the New Opera Orchestra named after Eugeniy Kolobov. Since 2014, she has been invited for annual touring of Japan and South Korea. In 2014, Irina became a Powell Artist and performed her solo debut at the National Flute Association in Chicago with pianist Phillip Moll and flutist Jean Ferrandis. In 2015, she was invited back to the US to perform in the Opening Gala concert which included 2000 flutists from around the world. In May 2016, in collaboration with Phillip Moll Miss Stachinskaya released her first solo album under the Russian label Melodia Records. After leaving her position at the Moscow Philharmonic orchestra in March 2017, Irina enjoys a very rich solo career popularizing flute as a solo instrument in Russia and abroad. She has performed in collaboration with renowned musicians including Nikita Boriso-Glebsky, Dmitry Kogan, Magda Amara, Harriet Krijgh, Basinia Shulman, Arthur Jussen, Amalia Hall, Alexandr Gindin, Pauline Sachse, Julia Hagen, Davide Formisano, Jean Ferrandis, Cammeristi della Scala, and others. In March 2018, Irina appeared with Mariinsky orchestra in Saint Petersburg at the « Virtuous of the flute » festival.
SEIJUN TAKAHASHI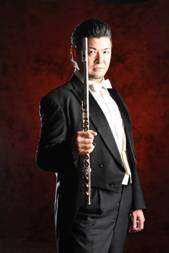 Seijun Takahashi was born in Tokyo, and started playing the flute at the age of 15. Seijun graduated from Kunitachi College of Music with the highest marks and was awarded the Yatabe Prize, where he won the Japan Woodwind Competition, KYOTO Art Festival flute competition, currently known as BIWAKO International flute competition, Japan Wind and Percussion Competition, etc. After which he continued his studies in Staatliche Hochschule für Musik und Darstellende Kunst Stuttgart since 1999. In 2001, Seijun joined the Sapporo Symphony Orchestra becoming Associate Principal the following year and Principal flute from 2012. He is dedicated chamber musician and soloist, has won first prize at the 12th Biwako International Flute Competition in 2007. He has given concert performances Mozart – Concerto for Flute and Harp K.299, Otaka – Flute Concerto op.30b and J.S.Bach – Overture No.2 BWV 1067 with the Sapporo Symphony Orchestra, Mozart – Flute Concerto G-dur KV313 with Wiener Kammerorchester in 2017 to great acclaim. In March 2020, Seijun left the Sapporo Symphony Orchestra to become an Associate Professor for flute at the Kunitachi College of Music. He studied under Taro Otomo, Akiyoshi Okazaki, Jean Claude Gerard and the late Paul Meisen.